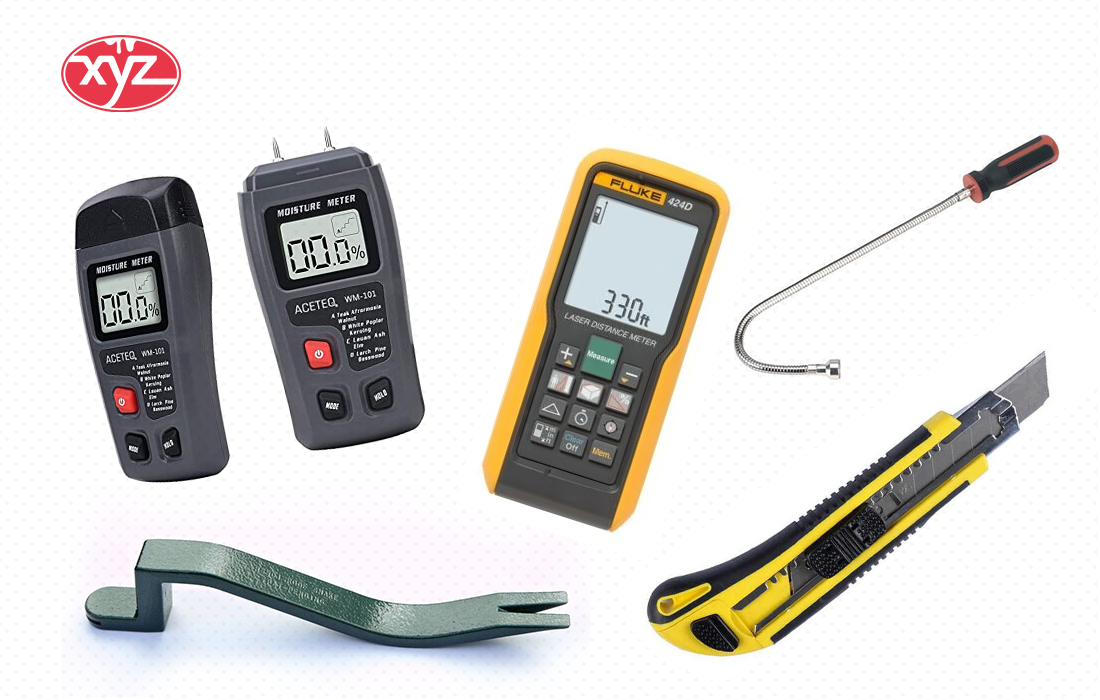 Roofs are one of the most crucial elements of every home. Therefore, people can never compromise on the regular maintenance of their roofs. For such type of maintenance, roofing contractors in Surrey can help. These contractors come well-equipped with all the tools and skills to ensure quality craftsmanship and effectiveness.
The construction tools are one of the most prized possessions of any roofing contractor in Surrey. If they do not have the appropriate tools, even the most competent roofing contractors cannot deliver their services effectively. But what are these roofing tools? Let us learn more about the tools one needs as a roofing contractor.
1. Moisture Meter
The first and most important tool you need in your arsenal is a moisture meter. Roofs have direct exposure to external elements, and moisture is one of those elements. It can cause severe damage due to the humidity spreading throughout the walls. So, keeping it at bay is imperative to ensure maintenance. 
Moisture meters help roofing contractors in Surrey determine moisture concentration in either roofs made of fiber cement or wood shingles. Either way, every roofing contractor needs a moisture meter to do their jobs effectively. So, invest in a good-quality moisture meter and offer better customer satisfaction.
2. Roof Snake
The next up on the list is a roof snake, making it easier to replace composition shingles. Modern roof snakes offer unmatched accuracy and precision with a distinct offset nail slot. It makes the job of roofing contractors easy and more efficient. 
You can use this tool to align new nails with the appropriate one-inch offset right from the bottom edge of the existing course. Besides that, roofing contractors in Surrey also need roof snakes to install new shingles without striking or overbending surrounding shingles with a hammer. Functionalities like these make roof snakes an imperative addition to your toolset. 
3. Laser Distance Measurer
Of all the tools mentioned in this list, a laser distance measurer is probably the most high-tech tool you can ask for as a roofing contractor in Surrey. These laser distance measurers come with Bluetooth technologies, making them ideal for measuring distances without hassle. 
Roofing contractors benefit from the laser measurement and automatic Bluetooth-sync feature. Measuring with this tool will transmit the data to your phone, making your job much easier. So, throw away all the old and conventional forms of taking measurements and utilize technology for the best.
Every roofing contractor in Surrey can benefit from a handy tool to grab small items in hard-to-reach or dark areas. These magnetic pickup tools are different from conventional magnetic sweepers. These tools come in a more compact structure, making it much easier to grab items one at a time. So if you need to scan for fallen nails, screws, or other similar hardware, this tool is the best you could have. Additionally, magnetic pickup tools are available in different variants, so finding one to suit your requirements and preferences should not be challenging.
5. Utility Knife
No matter how big or small the construction area is. Keeping a utility knife handy is the best bet for roofing contractors. These knives are readily available at affordable prices, so it is always better to go for a quality product. Roofing contractors in Surrey need these knives for many different reasons at their job. However, opting for cheap utility knives can make your job very challenging as they even pose severe risks of failure. So, when you are buying a utility knife, choose a durable one to get the best out of your investment.   
Final Thoughts
These are some of the most crucial tools every roofing contractor in Surrey should have. So, go through the list again to ensure you do not miss out on anything. These tools will make it easier to carry out your job successfully and with minimal hassle. They help the contractors wrap up the work faster by helping them make different tasks easy and less daunting. 
If you're looking for roofing contractors to help you with repairs or construction, contact XYZ Construction and Renovation Group. Our roofing experts have extensive experience and access to all these tools to deliver the best services. Contact us today for estimates.