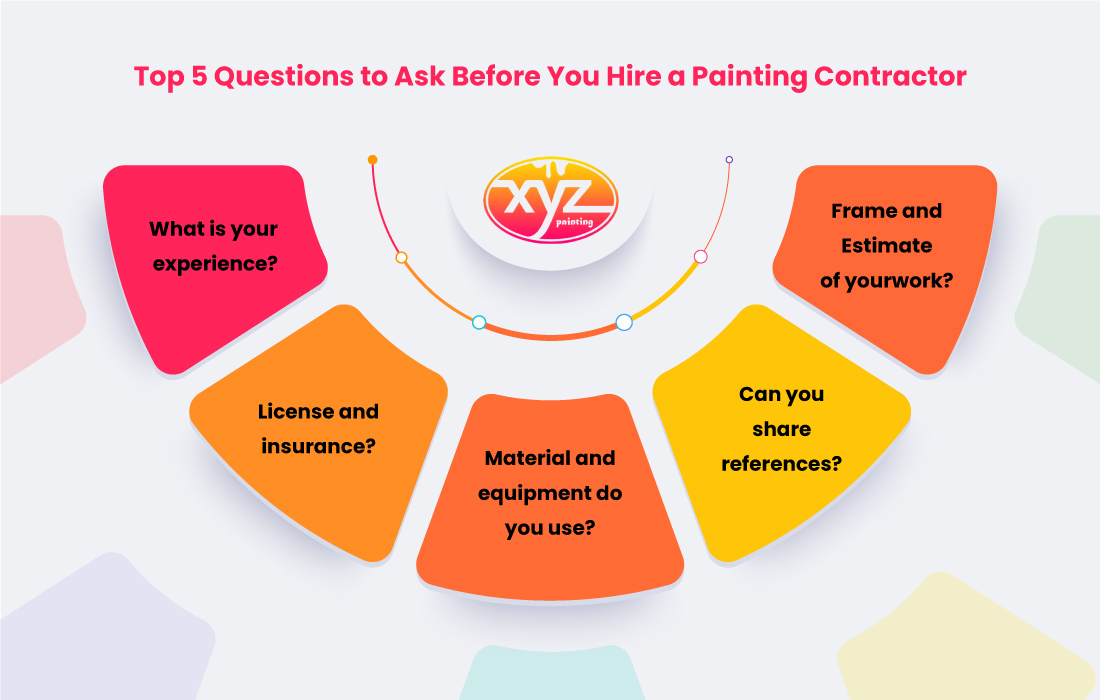 The plan of repainting your house is all fun and games until you get knee-deep into the process. No, we are not talking about choosing the type of paint or colors for your walls! That one is still easy.
Another crucial and taxing process is choosing a professional painting company in Surrey. While there are countless options, you cannot hire anyone to deliver interior painting services in Richmond.
Painting the house is something we do not do every day. So, make sure you have the right professionals to do the job for you. We will help you hire such experts. All you have to do is ask them these five simple questions, and by the time you reach the last one, you will be able to make the decision. Let us have a look:
1) What is your experience?
The first question you need to ask the painter contractor is their experience. Ask them how many years of experience they have in painting houses. You should hire an experienced contractor to ensure the best results.
You would not want the inexperience of your contractor to ruin the walls of your house. With experience, a painting contractor knows everything about painting the house. Painting the walls is not limited to slathering your walls with paint, but there is more to it. You need to sand the walls down, put a coat of primer or putty (if required), and once that dries up, it is time to put the paint. Also, the professionals must know how to use the painting brushes and rollers that when the paint dries, it does not chip or look uneven.
Everything depends on the experience of your painting contractor and their team. So, choose wisely. You can learn about their experience through their portfolio, website, client references, etc.
2) Do you have the license and insurance?
A professional painting company in Surrey must have the paperwork intact because the same is crucial for them to carry forward their work. The two things to look for are Worker Compensation Insurance and Business Liability Insurance.
The former helps the contractor compensate the workers if they have an accident and get injured while working on your property. On the other hand, the latter ensures that the painter will cover the damages done by them or their team on your property.
3) What kind of material and equipment do you use?
Ask your painting contractor what kind of material and equipment they use. Is there anything they will need from your end? Will you have to provide the paints or will they bring their own?
The answers to such questions will help you know what kind of services your contractor will provide. You will learn whether their services are all-encompassing or need your participation as well.
4) Can you share references?
Don't shy away from asking for references. If the contractor has worked for good clients and has sufficient experience, they will not hesitate to provide references. Once you have them, you can run a background check and see if their interior painting services in Richmond are worth it or not.
You can also ask some questions to the referred clients so that you are 100% sure about your decision to hire a professional painting company in Surrey.
5) What is the time frame and estimate of your work?
In the end, ask the contractor about the time they need to complete the job. Also, ask for a quote and see if that matches your budget.
If you think the time frame does not match your requirements or the quote exceeds your budget, you can move on to other more suitable options.
With these five questions, you will get the answers about the professional painting company in Surrey you plan to hire. If you are looking for such a company, contact XYZ Construction & Renovation group. We provide all types of exterior and interior painting services in Richmond.