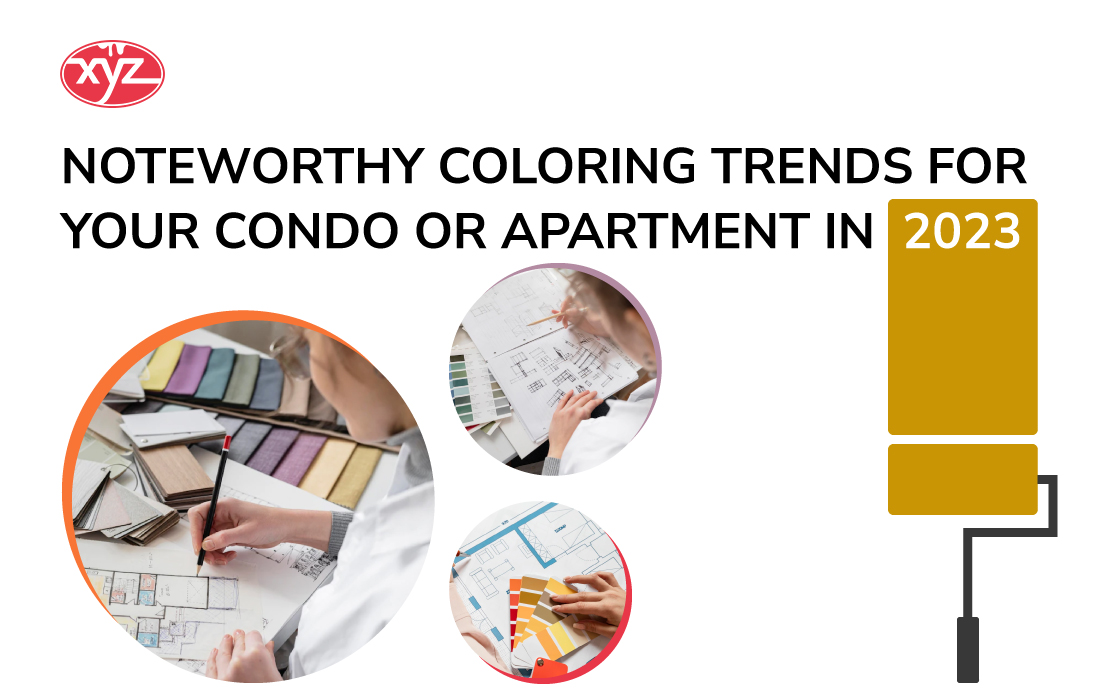 However, choosing the perfect color for your condo or apartment is anything but easy. There are so many things you need to consider that this overall decision can easily turn into an overwhelming experience. For example, you need to consider your mood, aesthetics, the size of a room, the direction of the wall, and whatnot.

But fret not! Following the right trends is one easy way to find the right color for your condos or apartments. So, here are the latest and trendiest colors you need to remember.

01 Add a Tinge of Silver
Yes, you read it right! As unconventional as it may sound, silver is trending for condos or apartments. Silver has earned a reputation for evoking a modern and sophisticated feel while enhancing overall aesthetics.
Besides that, many shades of silver allow you to experiment and choose the one that best suits your preferences. You can tone it down or up, depending on if you are going for a more casual or fancy interior.
However, do not overdo it. Silver should be used as a highlighting color to enhance the details on your walls, moldings, etc. If silver does not match your taste or tone of the house, you can use its counterpart - Golden!

02 The Minimalist Earthy Ochre
If you are looking to add a luxurious touch and feel to your condo or apartment, you must consider earthy ochre.
You can use the color in your living room and light up the place while creating a highly cozy and warm ambiance. The golden mid-toned tan pairs of this shade will complement other colors in the house.
Also, earthy ochre plays an imperative role in igniting a feeling of calmness in the ambiance. You can even combine earthy ochre with lighter shades of grey to add a distinct touch to the entire condo or apartment. To highlight it better, use other dark earthy shades like brown, green, etc. \
03 The Deepness of Dark Blue
There has long been a misconception about people with smaller spaces lacking the ability to make a good statement with their paint colors. However, this is now changing, with more and more people choosing unconventional shades to brighten up the best in their space.
One such shade is a dark blue, which eliminates the overwhelming sense in smaller spaces such as condos and apartments. This distinct shade does the ideal job of creating a new perception of depth and even makes the space appear larger. So, choose dark blue to set a distinct mood that does not overpower your place.

04 The Calm Crisp White
Not everyone is a fan of dark and moody shades. While there is nothing wrong with that, there are people who like lighter shades. So, you can choose from many alternatives to give your home the look and feel you desire.
Crisp white is one of those shades ideal for people with a taste for brighter walls. This unique shade does an excellent job of simultaneously evoking a sense of luxury and coziness. Besides, you can use this shade with many other shades, as crisp white will complement almost any other color you might have in mind. So, you need not keep your interiors restricted to a limited color palette.
To get your walls painted, discuss with experts at a reliable painting company in Surrey and find the ideal match through shade cards.

05 Go Green
People are often scared away by the thought of painting their houses green. But in reality, green is not as scary as it may seem. If you can find the right shade of green, you can simultaneously evoke a sense of calmness and energy in your home.
For instance, many homeowners these days are going for a calmer shade of green to add a different touch without overwhelming the space. More importantly, green is nature's color, which automatically connects humans with nature, helping them soothe their minds. Deep and dark shades of green are also a good option to paint your office walls.
06 As Blue As The Sky
Another trending color for condos and apartments these days is sky blue. This shade evokes a sense of purity, clarity, and enhanced intuition.
You can choose a lighter shade of sky blue to ensure it remains neutral with your light-shaded furniture. Besides that, most people are now choosing the combination of white and sky blue to ensure their paint remains timeless. Using these lighter shades also ensures your rooms appear more prominent than usual. So, if you want to ignite a feeling of cleanliness, feel free to choose sky blue for your condo or apartment.

07 Final Thoughts
These are some color trends you can use for painting your condo and apartment. So, pick the shade that matches your needs and preferences and transform your place for good.
If you cannot decide, consult painting contractors in Vancouver to send you the shade cards available with them. They will also provide you with painting