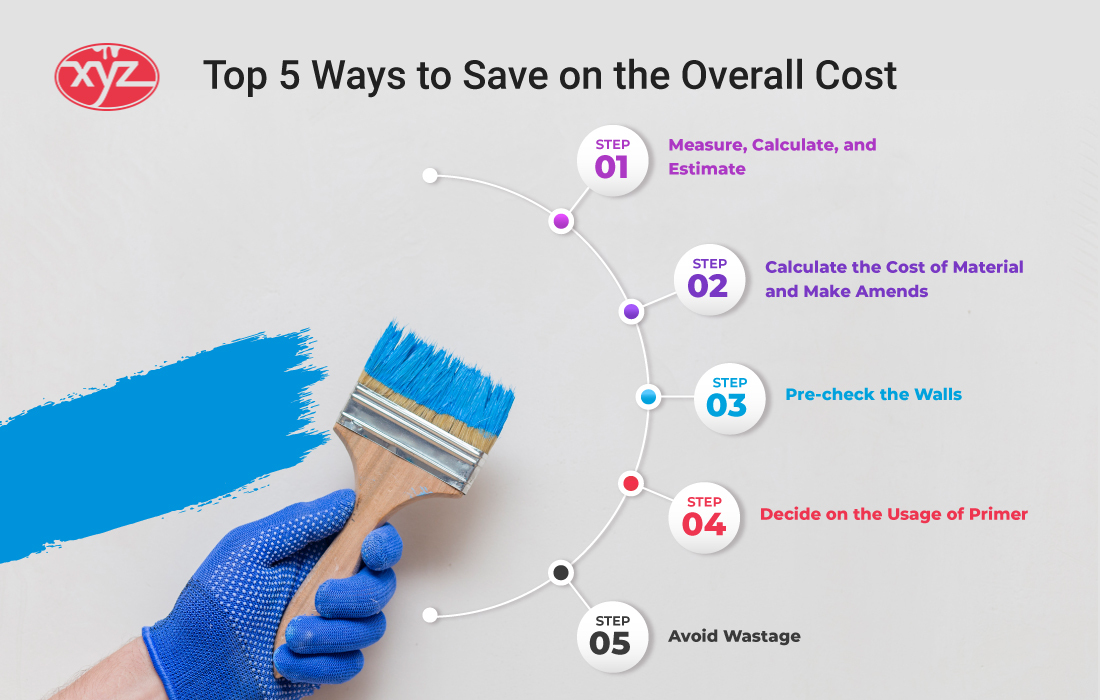 If you're someone who loves to decorate and improve their house, the idea of home painting might excite you! For many people, painting the house new is all fun and games. Choosing different paint types, colors, and textures for different walls feels like an adventure. However, for others, it seems like a challenge.
Regardless of how you feel about it, home painting is a recurrent requirement of your house. And whether you love it or take it as a tedious task, one thing that you cannot run away from is the cost of painting. Even if you choose the cheapest paints or home painting services, you have to pay for them.
If you're struggling to manage your painting budget, we will help you with some tips. Let us have a look at the five ways you can save on the overall home painting cost:
1) Measure, Calculate, and Estimate
How much area in the house needs painting?
Ask yourself these questions and then proceed with the calculations. It is crucial because, in most houses, people tend to use wallpapers. So, if you have wallpapers intact on your walls, you wouldn't need paint for those walls. The same goes for textured or accent walls. If they are in good condition, you can skip them.
Once you know what areas need a paint job, you can calculate the total surface area of the house that needs repainting. You can do that by using online tools like the paint calculator provided by Sherwin-Williams.
It will help you decide the quantity of paint you require for the house. So, you will not spend extra bucks on buying more paint.
2) Calculate the Cost of Material and Make Amends
What material do you require for home painting? You can ask this question from your home painting contractor. They usually bring their equipment, but the paint is the homeowner's responsibility.
However, based on the requirements of your house, they might require some extra material like wall putty, primer, etc. In many cases, the painting contractors also ask the homeowners to arrange the tools and equipment, like sandpaper, rollers, paintbrushes, etc.
So, calculate the cost of all material you need for home painting and add it to your budget. To cut down on the price, you can go for a painting contractor who does not burden you with the cost of extra equipment and material.
3) Pre-check the Walls
Before talking to your painting contractor, check all your walls and ceilings and see if they require any extra work. In many cases, people neglect waterproofing of the walls and ceiling, which may lead to instant damage to the paint even right after the first coat. It leads to doubled efforts of the painter and extra cost.
So, check your walls before starting the painting work. If you have damp walls, your painting contractor will suggest some waterproofing methods before applying the paint. Once that is done, you can go through the painting process worry-free.
4) Decide on the Usage of Primer
In many houses, the application of primer is optional. Usually, walls need a primer when you switch from darker paint to lighter paint to avoid the visibility of darker patches. Also, you may need a primer when you go from a high sheen finish to a lower one.
Other than both these cases, the usage of primer is not necessary. So, decide whether you need the primer for your walls. If you do not require the primer, you can skip it and save some bucks on your home painting process.
5) Avoid Wastage
We suggested calculating the area in the house that requires painting. Based on these calculations, homeowners buy the paint as per the requirement for each room.
However, if the painters don't use the paint sensibly, they might waste it. They will end up requiring more quantity of paint which means more expenses.
So, go for painting contractors who have a team of experienced professionals to avoid spillage, wastage, and errors. You can also ask the painters to be careful with the paint and keep a check on the same.
With these five tips, you can save a lot on your home painting cost.
If you're looking for professional and affordable painting services, contact XYZ Construction & Renovation Group. We are just a phone call away!