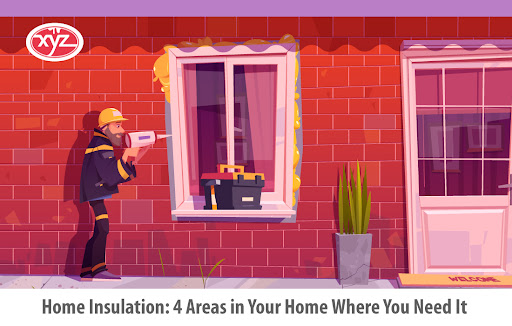 If you think home insulation is crucial only for houses situated in cold areas, you are wrong. Many people have this misconception. However, it is not the truth.
With home insulation, you can control the temperature of your house. It will be cozy and warm in winter and cold in summer. If you're wondering how insulation works during summer, we have discussed that in this blog on attic insulation.
To tell you more about insulation, we have listed the four areas in your home where you need it. Let us have a look:
Now, to tell you more insulation, we have listed the four areas in your home where you need it. Let's have a look:
1. Attic
Your attic is in more direct touch with cold and heat than the other rooms in your house. With such exposure, the attic can be the reason for heat or cold transfer to the house. Eventually, it makes the temperature in the house unstable and increases your energy costs.
If you have an under-insulated attic, your house consumes about 30% more energy. So, insulating the attic becomes crucial. You can use the most suitable type of insulation based on the attic space you have. There are different options like fiberglass, spray foam, or cellulose.
2. Crawlspace
The crawlspace in your house needs insulation because it also helps manage the temperature inside the house. With crawlspace insulation, you can prevent your floors from turning icy cold during winter. You can also prevent freezing of the pipes with this type of home insulation. Crawlspace insulation helps keep moisture, humidity, and heat locked in. So, it also helps your home stay cool during summer. It prevents the growth of mold or moisture. It also helps with sound-proofing.
3. Walls
The most common area in a house where you must have seen insulation is the interior walls. However, insulation is also equally crucial for the exterior walls. The insulation of interior walls helps regulate the internal temperature of the house. When you install the insulation on your exterior walls, it will help sound-proof the home. It will also prevent the transfer of heat or cold from the outdoors.
Wall insulation is one of the most efficient methods of saving energy costs and cutting down your electricity bills. So, when it comes to home insulation, professionals prioritize wall insulation. You can choose spray foam or blown-in cellulose insulation for the exterior walls. They are more effective for sound-proofing and act as a barrier between your house and the outside conditions.
4. Basement
Basement insulation might sound unnecessary, but trust us on this, it makes a huge difference. Basement insulation improves the heating efficiency of your home. It helps you maintain an ideal temperature in the rooms above, making the house more comfortable. The trick is deciding which areas of your basement to insulate. You can install insulation in the entire basement or only go for the floors, walls, or ceilings.
You can use any home insulation for the basement, including spray foam, fiberglass, plastic fiber, cellulose, foam board, etc. With basement insulation, the value of your house also increases.
Professional Home Insulation Services At XYZ Group
At XYZ Construction and Renovation Group, we have a team of experts who have extensive experience installing home insulation. We use high-quality insulation material for all areas of your house. We offer insulation installation or removal services at affordable prices. So, if you're looking for experts to get home insulation services, contact us. We are just a phone call away!
We provide insulation, drywalling, painting, finish carpentry, and sanitizing services. We serve in Burnaby, Richmond, Vancouver, and Surrey.