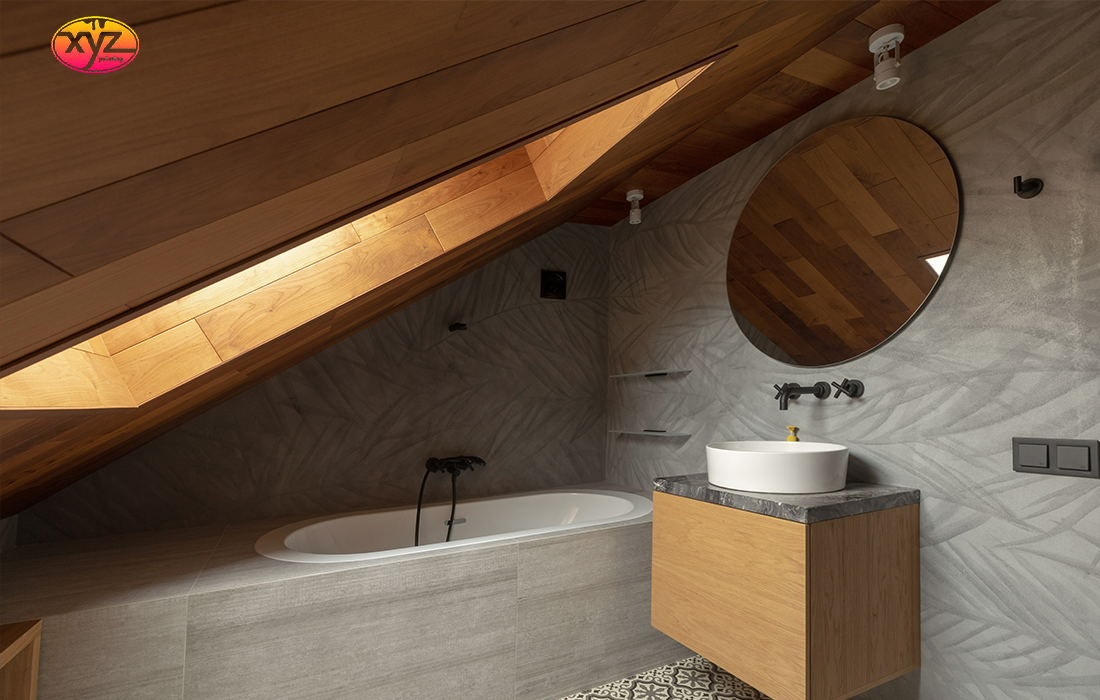 Your bathroom is one of the most used areas in your home. It is used by all your family members multiple times a day. So, it is important that everything you put in there is durable and can withstand heavy use. Ceilings are included in this category. The shower's excessive moisture can cause mold and mildew to grow on the ceiling, which could pose serious health risks. All you need to keep your ceiling looking great is the right paint. Not just that, good paint will also keep your ceiling free from the mold for many years.
When picking paint for your bathroom ceiling, it is important to take into account considerations such as water resistance and moisture protection. For those who feel overwhelmed by the task of selecting paints, we have some amazing tips dished out here. Check out—
What are the different types of paint options suited for a bathroom ceiling?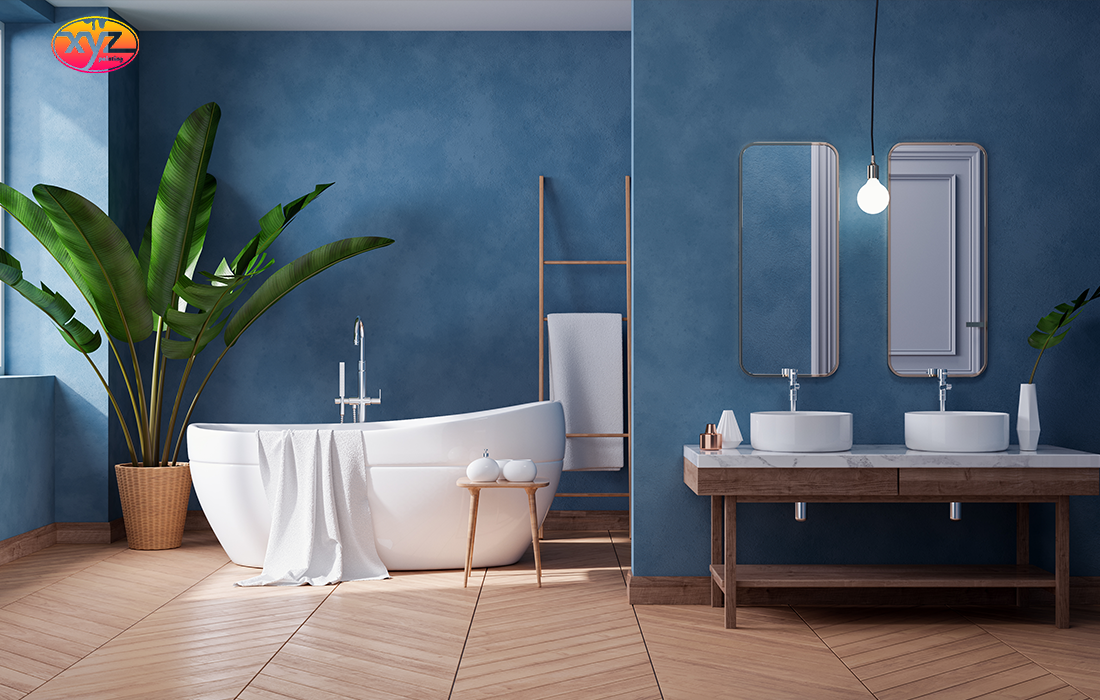 All paints are not created equal. The paint that you would use for your living room ceiling won't work for your bathroom. It all boils down to moisture tolerance. Thankfully, specially designed paints are available for kitchens and bathrooms that repel water and moisture, so there is no build-up of mold and mildew. The wrong paint can have devastating and expensive consequences for your home as well as your health. Here is some paint options best suited for your bathroom ceiling—
Water-based latex paint : This paint makes the best bathroom ceiling choice. Oil-based paints are stronger, but you will need to clean them regularly. Oil paint can also develop a yellowish tint over time. Latex paint is water-resistant and easy to clean. So, it doesn't require much work to remove stains from this paint. Latex paint also dries quickly, which is great for those who apply multiple coats or just want to put the bathroom back to use as early as possible.

Use a moisture-resistant primer: Many people have problems with their bathroom ceiling's paint peeling. This happens because steam and moisture build up between the paint and the surface to which the paint is sticking, which causes it to bubble. A moisture-resistant primer can prevent this. It will not just prevent the paint from peeling but will also prevent the ceiling from getting mold and mildew if you use it in conjunction with mildew-resistant paint. This will save you time and money in the long run as far as bathroom maintenance is concerned.

Semi-gloss paint : Heat, humidity, and moisture can all cause bathroom paint to chip or peel. Semi-gloss paint can prevent this from happening. Semi-gloss paint is durable as well as washable. It's also resistant to mildew. Semi-gloss contains a moisture-blocking agent that keeps your bathroom walls and ceilings looking beautiful for many years.
The best paint to prevent the growth of mold and mildew—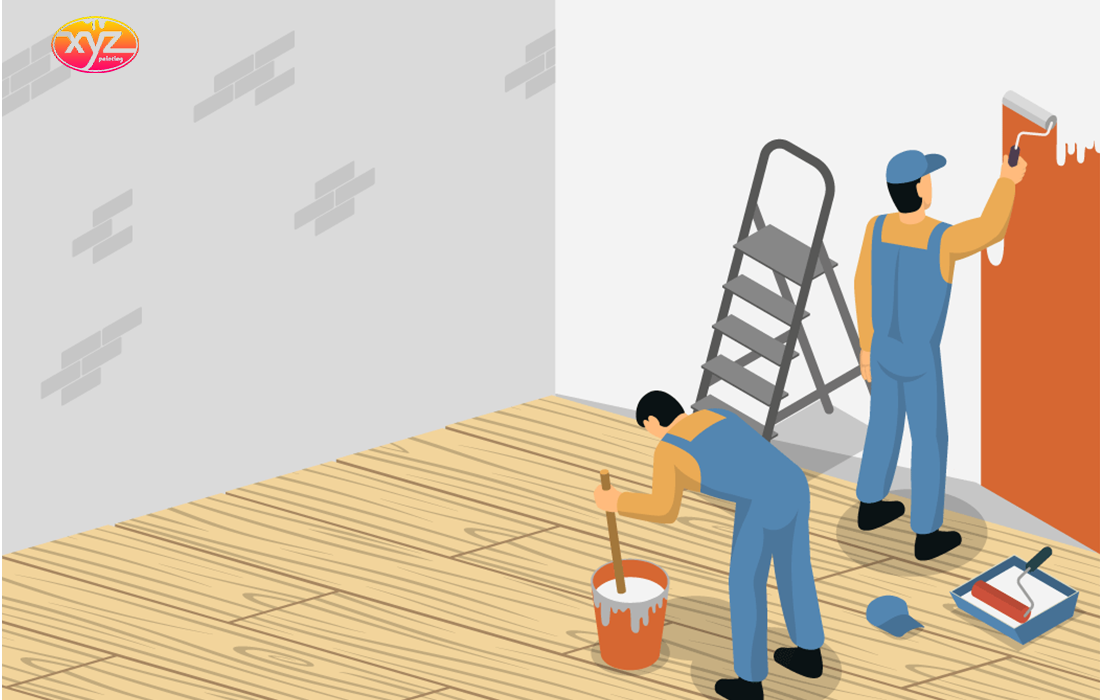 The best paint for bathroom ceilings is one that prevents mold growth. Today's paints are made with chemical compounds and minerals, which slow down and inhibit the growth of mildew and mold. Moisture resistance is key here. Paint that repels water from your walls is highly effective in keeping moisture from damage.
For better protection, you can go for latex paint in a semi-gloss finish. You can wipe the ceiling and walls with an antibacterial cleaner from time to time to prevent mold growth and keep your bathroom mold-free for years on end.
In general cases, ceilings don't need frequent cleaning. It needs to be cleaned only 4 to 5 times per year. Yes, if there is another mess from construction or your children, you might need to clean more often.
It's important to inspect the ceiling and walls of your bathroom occasionally for mold growth. This will help you take measures without making any delay.  In case you have used high-quality paint for your bathroom ceiling and have followed all the maintenance instructions given by your paint contractor but still see mold growth, then the problem lies somewhere else. Your drywall could be the culprit. Maybe it is constantly exposed to water from an outside source. This situation requires immediate attention and professional intervention.
Which is the most appropriate paint for your bathroom ceiling?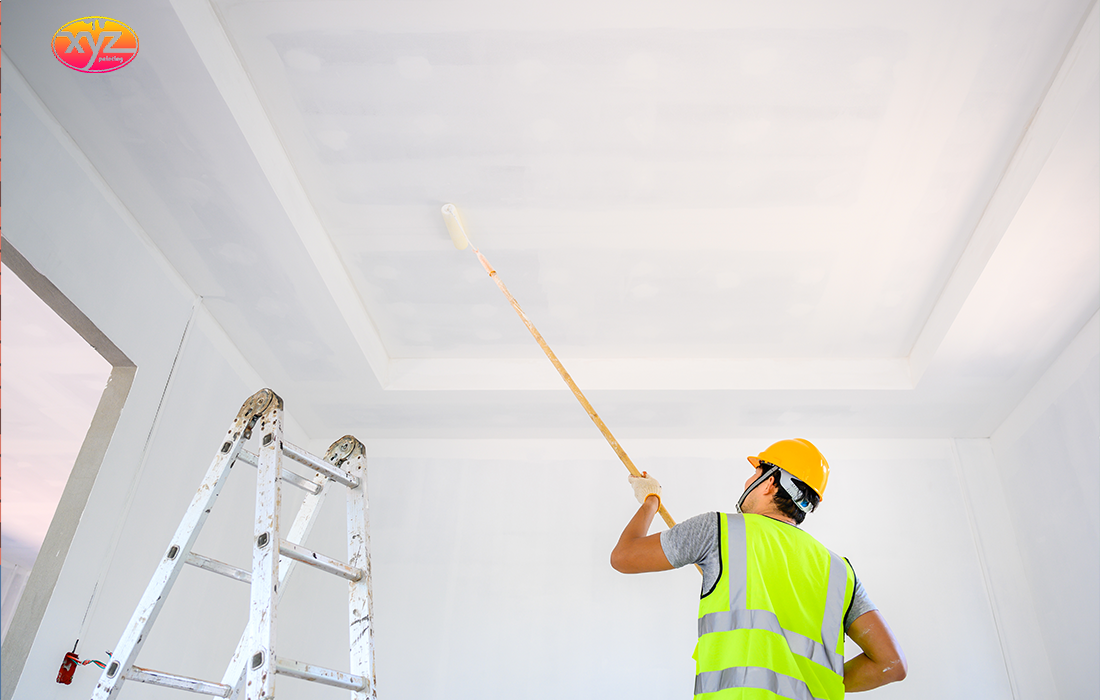 Water-based acrylic latex paint is the best choice for bathroom ceilings. There are many options and many colors to choose from. For extra protection against moisture and humidity, we recommend the semi-gloss variety.
Semi-gloss and gloss are, in fact, the best finishes for bathroom paint. You can choose between these two to give your bathroom paint a shiny finish that resists moisture build-up, which can lead to mildew growth.
Semi-gloss paint contains more resin and binding agents than flat paint. A glossy finish contains even more. So, these paint formulas have a very tight molecular arrangement. This is crucial when painting bathrooms because of two reasons—
The paint will not absorb water. Semi-gloss and glossy paints are designed to repel moisture.

For washing and scrubbing, the tougher formula is more effective. Do you want your bathroom to stay clean? Semi-gloss and glossy paint finishes will withstand your efforts to clean and sanitize the bathroom.
If you have a humid bathroom and you love taking steamy showers, you will need to choose a semi-gloss paint that is more durable than usual and can withstand moisture. Semi-gloss paint prevents moisture from condensing in humid areas of the house.  For bathroom ceilings, you can also go for a satin paint finish. If you are concerned about how the drastic transition from eggshell in one room to semi-gloss in another would look, you can take the middle road and use a nice stain finish instead. However, we would still recommend semi-gloss for your bathroom ceiling.
For DIY projects, it's important to plan ahead—
Preparation is crucial if you want to paint your bathroom ceiling yourself. Always clean the surface before you begin painting. It is important to get rid of any mold or mildew. You can do this easily with a simple DIY solution of bleach and water. To protect surfaces that you don't want paint on, use drop cloths and painter's tape. You'll save a lot of time and effort later when cleaning up. We recommend that you start at the corners before moving across the wall.
When you are painting, make sure to open all the windows. Ventilation is good for your health, and it helps the paint dry faster. After the painting is complete, it's best to wait a few days before you take a hot shower. This will allow the paint to settle and provide you with the best moisture protection.
Do-it-yourself bathroom painting is a good idea. Use semi-gloss paint to protect your bathroom from mold and mildew. If there is any mold growth, it's time for you to repaint the ceiling. However, if you are unsure where or how to begin? Hire a professional painting company. There must be plenty of them in your town available for hire. Make sure they have the expertise to first safely deal with the existing mildew and mold. It's then that they should paint your bathroom ceiling to perfection so that your bathroom looks like a newly constructed one. They might also be interested in giving a free estimate. Contact a good service provider for details and, of course, the best paint job.