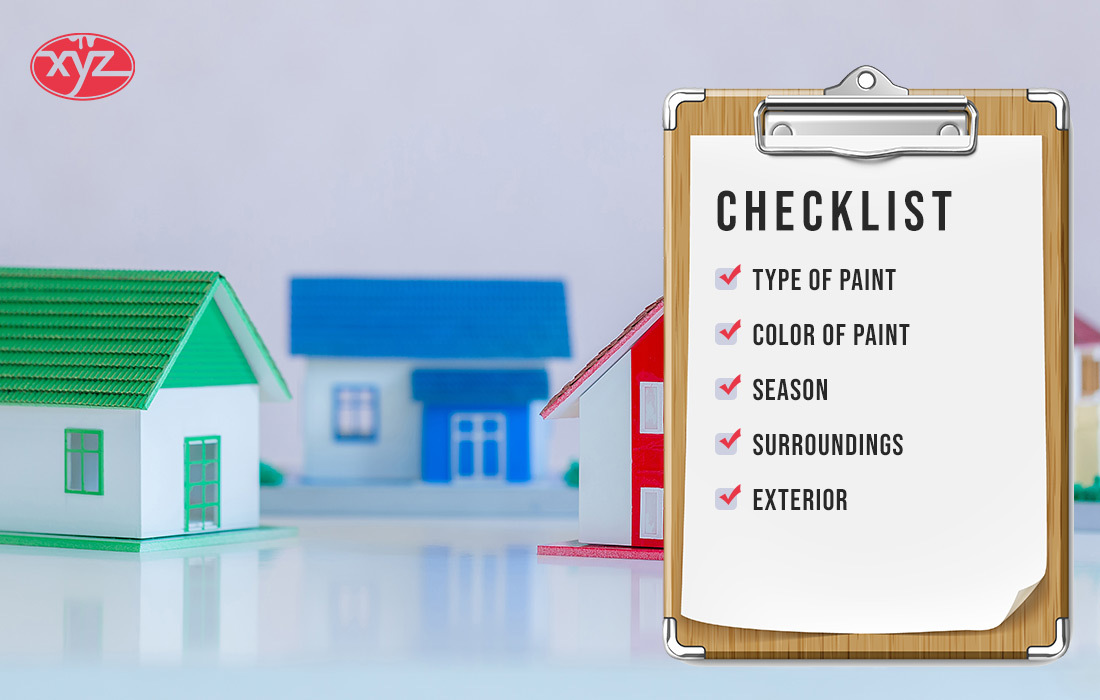 Many people believe that painting the entire house at once is a great idea! Well, we plead to differ. If you have a small space, you might make it work. But for big houses, painting one area at a time is the best way to do it.
As professionals delivering interior painting services in Surrey, we suggest you plan your interior and exterior painting differently. You can start the exterior paint right after the interior but avoid working on them simultaneously.
The reason is simple - the exterior of your house faces a lot more exposure than the interiors. So, along with just picking the pretty paint colors, you also have to look under the hood and choose a better formula of paint that lasts longer.
Now, if you are planning to repaint your exterior, you need to make some crucial decisions. To help you make the right ones, we have created a checklist. Let us have a look:
1) What type of paint do you want?
The answer to this question depends on what your house is like and where it is situated. If you live in a dusty area, you need to choose dust-repellent paint. Similarly, if you live in a moist or damp region, you will need a paint option that offers moisture resistance.
On the same lines, while choosing the type of paint for your exterior, you need to look for the qualities your house requires in paint. It should be durable, weather-resistant, fade-proof, water and dust repellent, mold-proof, and more. Accordingly, the price of your paint will vary. However, exterior paint is a long-term investment, and you must make it right! You can seek advice from exterior house painters in Vancouver to choose the most suitable type of exterior paint for your home.
2) What color of paint do you want to choose?
Another crucial step is choosing the paint colors. As always, this one is tricky. Start by asking for color palettes or color cards from your painters or a paint shop. You can also browse the internet for these color palettes.
Once you have an idea about your options, choose the ones that will suit your house the most. You can go for a single color or choose a combination of colors to highlight the nooks and edges of the exterior walls. For your entrance or porch, you can pick the paint suitable for accent or textured walls if you want to add a unique touch.
While choosing the colors, make sure you do not go for dark ones like black. It is because such colors often get easily dirty due to dust. Also, they fail at hiding the flaws of your walls like chipped paint, dampness, etc.
When choosing the combination of colors, avoid picking more than two colors so that you can keep it minimal and muted. The reason is that the outdoors have many other colors like the green of plants, the color of your gate and window frames, doors, etc. So, keeping the wall paints minimal is the best bet to prevent your house from looking too loud.
3) What is the season?
For exterior paints, the professionals prefer working only during the painting season. Your exterior is out in the open and lacks coverage. So, you cannot choose to paint the house when it is raining, snowing, or hailing. You cannot also choose to paint the exteriors of your home on a windy or stormy day.
So, look it up and choose the sunny and warm days for painting the house. It makes the job of exterior house painters in Vancouver easy and helps the paint dry fast. In other words, summer is the best time to paint your exterior.
4) Will the paint go with your surroundings?
While you are free to choose the interior paints for your house, you need to put a little thought into choosing the exterior paint. And here, we are talking about color.
The exterior paint of your house adds to the look and feel of your surroundings or neighborhood. You can choose any color you want but be considerate of the other buildings of the surroundings. Choose the paint colors that suit your surroundings the best. You do not want people to refer to your house as the ugly orange house at the corner. The rest is your call, of course!
5) How would you furnish your exterior?
What is the color of your entrance door? What color do you want for your window and door frames?
If we talk about the 2021 trends, many people were crazy about painting their windows and doors black. In that case, they chose to keep their exterior color either white, beige, or something pastel and neutral.
You need to find and strike the perfect balance of colors for your exterior. Choose the paint that blends in well with your furnishings and lighting.
So, this was all about choosing the right paint for your home's exterior. If you are looking for exterior house painters in Vancouver, contact XYZ Construction & Renovation group. We will help you make the big decisions about your exterior paint job. Book a visit today!